Martin RE, Korchinski M, Fels L, Leggo C (eds.). Arresting Hope: Women taking action in prison health inside out. Inanna Publications, 2014.
To purchase: https://www.inanna.ca/catalog/arresting-hope-women-taking-action-prison-health-inside-out/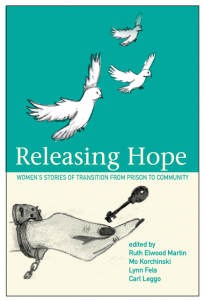 Martin, R. E., Korchinski, M., Fels, L., & Leggo, C. (2019). Releasing hope : Women's stories of transition from prison to community. Toronto: Inanna Publications and Education Inc.
To purchase: https://www.inanna.ca/product/releasing-hope-stories-of-transition-from-prison-to-community/